Welcome to the New WingStuff Community
---



Good to have you here!
At WingStuff, you are more than a customer, you are part of our family. That's why we decided a long time ago, before Facegram and Instabook, to create a community where we could all connect, share our experiences and show off our Wings.
With the redesign of WingStuff, we decided to carry over community features that you, and others, already use and enjoy! But we also wanted to make them even better. We believe that every aspect of our community - from public wishlists to searchable member profiles, product reviews and more - is important to help you connect with like-minded Gold Wing enthusiasts and also make the right choice when deciding what product to purchase for your beloved Wing.

When you log in to your WingStuff account and click the "Community" link at the top of any page on our site, you will be able to see a snapshot of the newest product reviews, community members and blog comments. For each, you have the option to click "VIEW ALL" to have access to all reviews, members and blog comments. Let's take a deeper look at these features.
Searchable Member Profiles
Looking for a Wing Rider who lives nearby? Curious to discover riders with the same Gold Wing model that you own? Is there a specific member you are wanting to find? Now you can search the WingStuff Community in a multitude of ways to get just what you need: search by a Member's Alias, where they live and what bike(s) they own. You have the option to sort your results by Date Joined, Alias, State, Occupation and profiles that have been recently updated. Once you select a member, you can easily view their photos, product reviews, public wishlists and blog comments.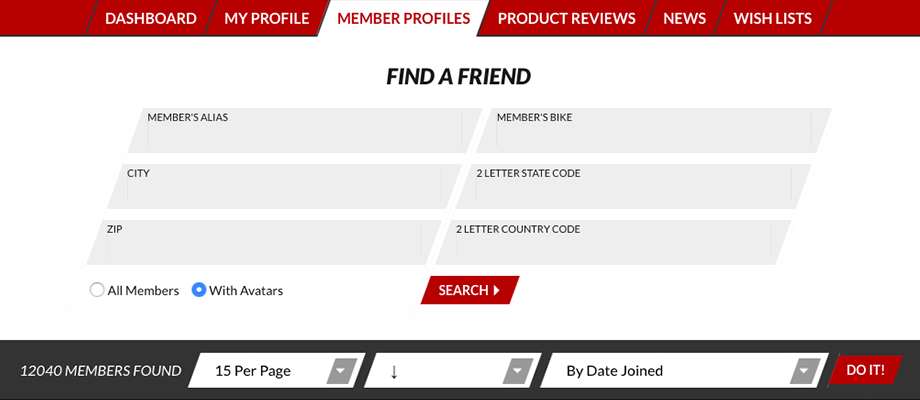 Enhanced Product Reviews
You can still submit reviews on products you have purchased and indicate or see whether another member's review was helpful or not just like before. However, we've added the ability to upvote or downvote reviews. In other words, the community decides which reviews are best on any given product and those will rise to the top. Additionally, you can now earn WingReward points for leaving product reviews, which can be converted into discounts on future orders (limits apply).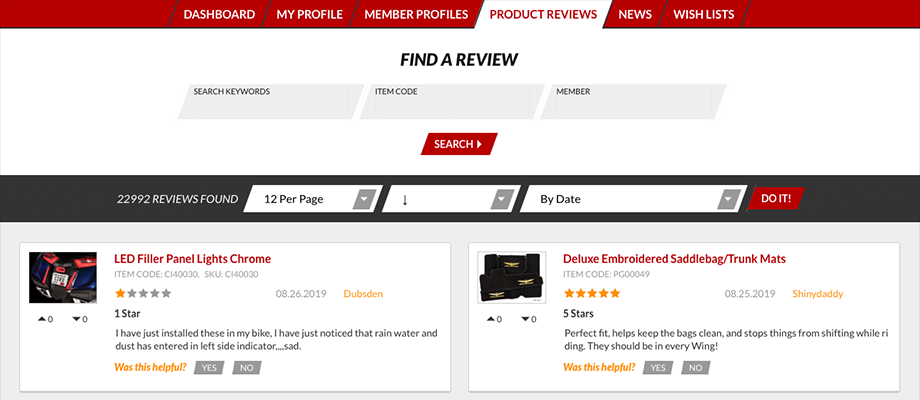 Custom Wishlists

As a WingStuff community member, you can create custom wishlists and decide if you want them to be public - so that the rest of the community view them - or keep them private. In the past you were only able to maintain one wish list. With the new WingStuff you can now create and customize as many wish lists as you'd like! Say, for example, you want one wishlist dedicated to lighting items and another just for maintenance or winterizing your Wing. You can do that! On the other hand, maybe you like placing all the products you want in one list. You can do that, too. It's completely up to you. To learn more about Custom Wishlists, check out FEATURES OF THE NEW WINGSTUFF - PART 3: CUSTOM WISH LISTS














Gold Wing News

This is where we will keep you updated on what's happening here at WingStuff, as well as the broader Gold Wing universe. We also post our very own blog series, such as Ride America - where we highlight some of the community's all-time favorite places to ride in the U.S. - and announce exclusive promotions, videos and more. With the new WingStuff, you have the ability to rate each post and see the overall community rating. When you leave a comment or share our blog articles to your Facebook, Twitter or Pinterest you will now earn WingRewards points, which can be converted into discounts on future orders (limits apply).




With over 135,000 lifetime members and just under 23,000 product reviews, why look anywhere else?




Welcome home,

Rick Arnoldo & The WingStuff Team
---
Community Rating:
My Rating:
Sign In to Rate
Comments
Wish Lists
I like being able to create custom wish lists so that I can prioritize my purchases in phases and form versus function.