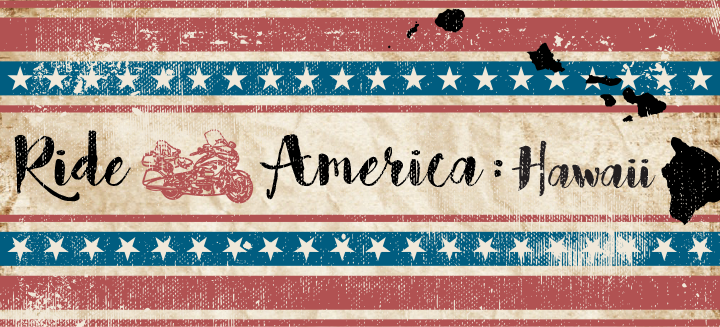 The islands of Hawaii have long been considered by many to be the ultimate escape from the trappings of day-to-day life. Its laid-back lifestyle, natural beauty and dramatic scenery are hard to beat. Riding down the road on your Wing can be difficult with so many things calling for your attention. But you can do it, we know you can!
Obviously, the biggest challenge when it comes to riding on any of the Hawaiian islands is safely transporting your Wing there or, alternatively, leasing one while there. Unfortunately, last we heard the only place that rented Wings on any of the islands is now closed. So looks like your options are to ship yours over or make a friend on the island who happens to own a Gold Wing and is also willing to lend it to you. If any of you has heard something different, let us know!
Keep reading to find out some of the best roads to ride in the Hawaiian Islands.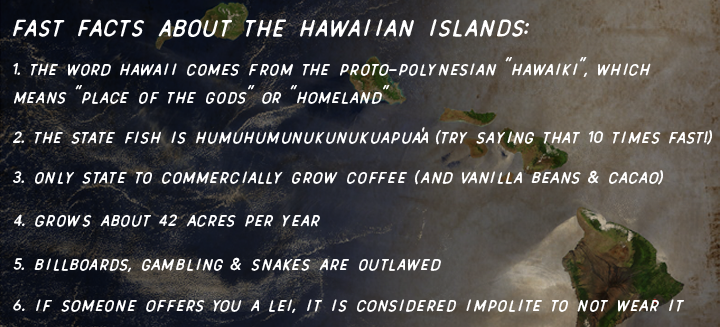 Fast Facts:
1. The word Hawaii comes from Proto-Polynesian "hawaiki," which means "Place of the Gods" or "Homeland."
2. State Fish is Humuhumunukunukuapua'a (try saying that 10 times fast!)
3. Only state to commercially grow coffee (as well as vanilla beans and cacao)
4. Grows about 42 acres per year
5. Billboards, gambling and snakes are outlawed
6. If someone offers you a lei, it is considered impolite to refuse to wear it

Big Island of Hawaii - "Island of Inspiration"
Must See - Volcanoes!
Must Ride - Kohala Mountain Rd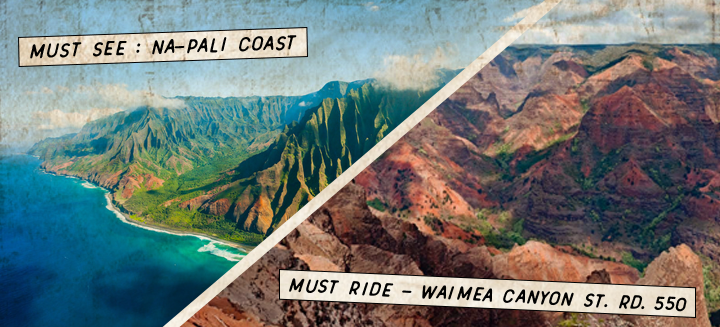 If you're looking for a more relaxed, casual quick trip you might want to consider Kohala Mountain Road Route 250 on the Big Island. Known by locals as "The High Road," it takes you through all sorts of landscapes so you get a good variation. Interested in seeing volcanoes? On this road you will see three awe-inspiring volcanoes: Mauna Kea, Mauna Loa and Hualalai. There are additionally several areas along the way, should you decide to pull over and snap a few pics.
The lookout at mile marker 8 has a great view of the Kohala Coast and Kawaihae Harbor down below. On clear days, you should be able to see Maui across the pacific waters. For a longer ride, you can add route 19 as well as 270 (coastal) and make it a loop!

Maui - "The Valley Isle"
Must See - Haleakala Crater
Must Ride - East Maui Loop/Hana Highway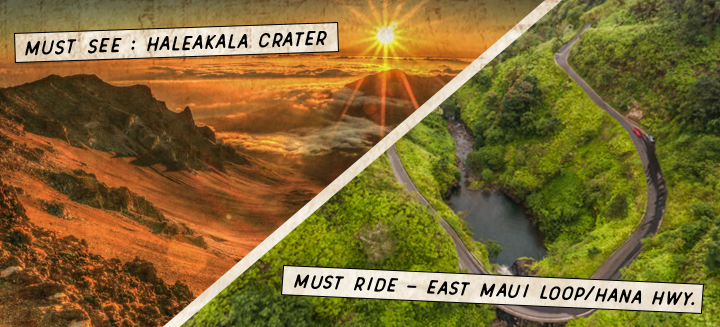 This ride is about 112 miles and traverses a solid portion of Maui, both the interior and coastal. Along the way you will be overtaken by unforgettable sights to stimulate the senses: Panoramic ocean views, waterfalls, lush rainforests, rolling hills, evidence of lava flows and even ranches and farms with cows milling about. Riding through the Haleakala National Park just after the town of Hana, you will have the opportunity to visit the Pools of 'Ohe'o (Seven Sacred Pools). Sounds mysterious! If you arrive at the right time, when water levels are up, there will be many waterfalls and natural pools that you can swim around in. A few things to remember if you do decide to check out the pools: It's part of a National Forest so it costs money to get in, it can get pretty crowded later in the day and access is regularly restricted in wet weather.
If you only want to ride a portion of the loop, check out the section from Jaws to Hana. Also referred to as the Hana Highway, this stretch starts at a popular surf spot known as Jaws, on highway 36 and ends at the town of Hana on highway 360. It's about 37 miles of jaw-dropping views (think Jurassic Park) but also technically challenging with hundreds of turns. There are expansive ocean views on one side and humbling mountain and waterfall views on the other. Just keep in mind, this ride is recommended for experienced riders only. Guard rails are few and the drop can be quite steep (over 1000 feet).

Oahu - "The Heart of Hawaii"
Must See - USS Arizona Memorial in Honolulu
Must Ride - Tantalus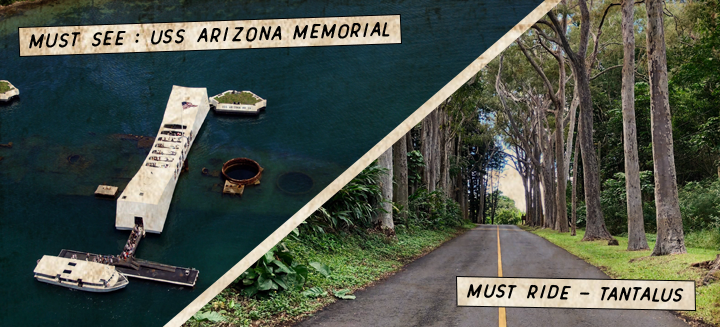 If you are staying in or near Honolulu and feel like going for a quick jaunt up a mountain, consider the Tantalus run. It's about 5 miles of constant incline and twisties. In other words, this is an incredibly technical road that requires an experienced rider and continuous concentration. You can expect to find some long straights as well as short, elevation changing hairpin turns. Most of the road should be in pretty good shape, but there's a chance you come across some rough spots along the way.
On the way back down, keep an eye out for a couple look-outs that you may want to stop at to marvel at the view below. The best part about this road is, if you really enjoy it, it's short enough that you can ride it over and over again to your hearts content!

Kauai - "The Garden Island"
Must See - Na-pali coast
Must Ride - Waimea Canyon State Road 550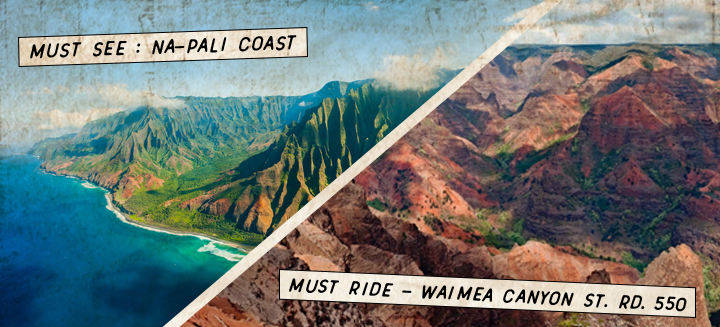 Located on the west side of the island where it tends to be dry and sunny throughout the year, you might say it was made to have a motorcycle riding down it. As with the other routes we've suggested, there are stunning views and plenty of opportunities to stop and take some pictures. For those of you who are sightseers, there are some great places to stop along the way: The Waimea Cottages, JoJo's Shaved Ice, the Hanepepe Swinging Bridge and more. You won't be disappointed!
For many well-travelled Wingers, Hawaii and Alaska remain two of the most elusive U.S. states to ride for obvious reasons. Ironically, because of their isolation they both also house some of the most picturesque, pristine and serene landscapes in the world. Riding your Gold Wing across any of the Hawaiian Islands is an experience you will never forget!
Keep an eye out for our next edition of Riding America where we will explore all that Alaska has to offer. If you've discovered some incredible rides in Alaska, feel free to let us know in the comments below or by emailing us at [email].
Also, if you have any roads or points of interest in Hawaii that you would like to add, feel free to let us all know in the comments section below!