WingStuff President, Rick Arnoldo, is in search of a memorable ride, some good food and great conversation with Gold Wing enthusiasts throughout the industry and beyond. This is Rollin' with Rick.
In this fourth episode of Rollin' with Rick, WingStuff owner and president, Rick Arnoldo, travels to the headquarters of Baker Built Products in Ohio City, Ohio to visit his longtime friend, Bruce Baker. While there, the two of them ride to one of Bruce's favorite restaurants and reminisce on their friendship over the years. Then they ride back to Baker Built and Bruce gives Rick a tour of the place where vintage treasures abound!
The Baker Built Story: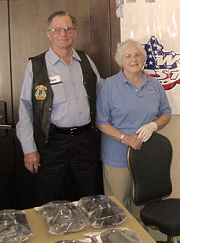 Baker Built Air Wings™ started business in 1975 as a one man operation, Custom Metal Fabrication Shop providing welding and custom metal fabrication services to local farmers and industries in and around Ohio City, Ohio. In 1983 Baker Built began developing the first Air Deflectors for greater air flow control and riding comfort for both rider and passenger on their own Honda GL1100 Gold Wing. In 1984, after testing the market and receiving excellent customer response, the "Air Wings" trademark was registered. Manufacturing, nationwide promotion, distribution and sales campaigns were put into action. Due to great customer response in 1985 and 1986, the Air Wings™ air deflectors were designed for almost all makes of large touring motorcycles since that time. Air Wings™ are now sold internationally. In 1990 various other air deflection devices were developed such as the Air Wing™ Uppers, Lower Air Wings™ and Foot Wings. These new products when added to the original Air Wings™ line provided for a complete air flow control system that was rated #1 by Motorcycle Consumer News. In 2001 Air Wings™ with Lowers, Leg Wings and Foot Wings were developed for the new Honda GL1800 Gold Wings. In 2002 Hand Wings were developed for the GL1800, and in 2003 Hand Wings were developed for the GL1500. Most recentley Baker Built has come out with Air Wings™ for the CanAm Spyder and Polaris Slingshot, as well as a Luggage Rack and Back Rest system for the CanAm F3 Spyder. Baker Built Air Wings™ Inc. continues to be the #1 innovator of air deflectors for motorcycles with new models always being considered. Baker Built strives for excellent customer service with Satisfaction Guranteed and a 1 Year Limited Warranty. They provide quality products made in the USA.