Continuing our Features of the New WingStuff series, where we highlight some of the key functionality we've added to our new website. Shop For Your Bike search is the latest added piece of our new shopping experience. This will now streamline the way you search for products. You can select your model and year right from our homepage before you begin your shopping experience. It's also available in various places throughout the site. If you don't do it from the homepage, you can select your bike once you start digging in to the categories.
Once you've selected your model and year it will look like this:



Search by bike model and year is something we've been consistently hearing about from our customers over the years. It's another feature that has pretty much become standard on motorcycle parts and auto parts websites. We are very excited to bring this updated way to find things for your Gold Wing to all of our customers. Your selection will be remembered the next time you visit the site, so you don't have to do it every time you come back and shop with us.
Once you've clicked the 'FIND STUFF' button it will look like this:

Once you've selected model and year and clicked the 'FIND STUFF' button, you can now shop the site and your results will be filtered to only show products that fit your specific Gold Wing. From there you can still use the other search filters to narrow down exactly what you're looking for. You can still search by brand, category and price range. You can also change the amount of items showing on the page as well as choose from the different sort methods. The default is set to Best Selling, but you can sort by Newest Items, Featured, alphabetically and more.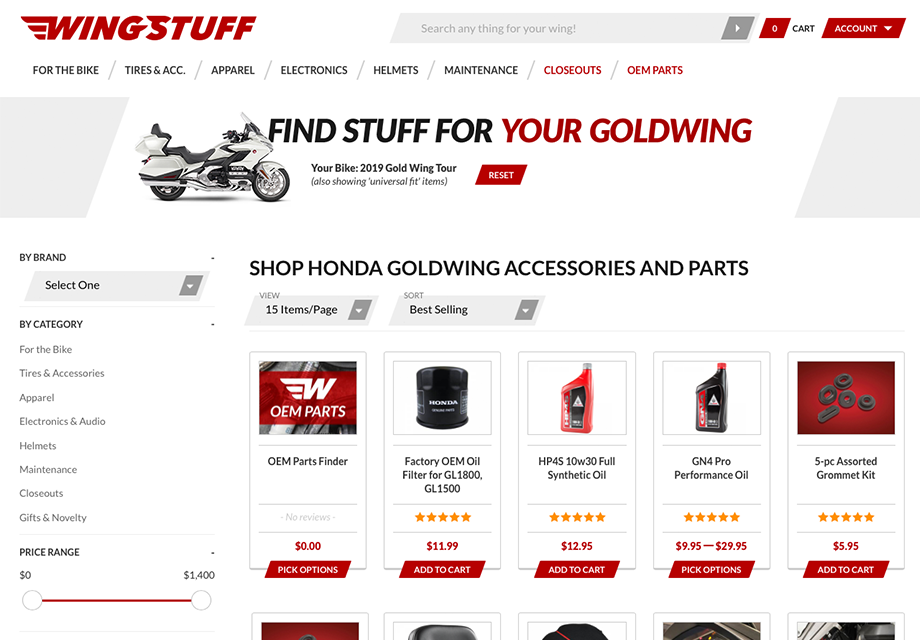 If you happen to make your way from the homepage, through multiple levels of categories and still haven't selected your Gold Wing model and year, there is still one last chance for you to do it. On every product detail page the model and year selector is available. We want to make sure you are buying exactly what you need for your Wing.

If you get to the product page and haven't selected your model it will look like this:


Once you have selected your model or if it's already selected the product page will look like this:


The other way you can always check to see if an item fits your exact Gold Wing model is by checking the 'FITMENT' section right below the product description. Here we provide a detailed fitment list for you to double check for your exact year and model.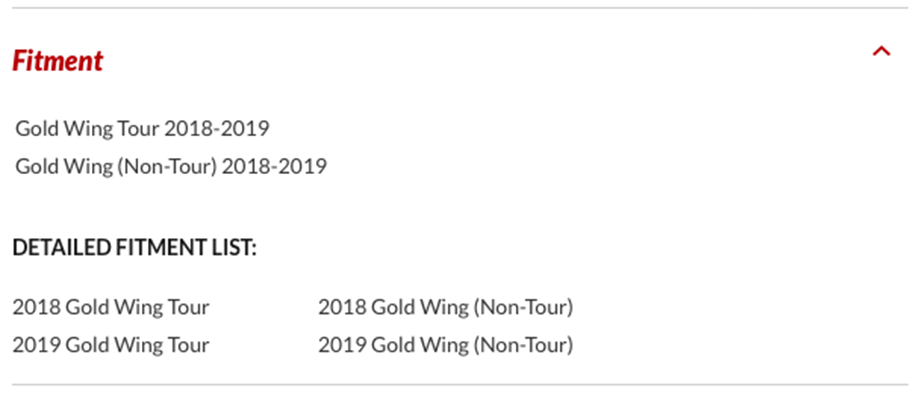 We hope that changes like this will help improve your experience with WingStuff going forward. Stay tuned for more new features that we will be highlighting over the next few weeks. Thank you to all of our loyal customers for the feedback on the new site. We will always listen to what you have to say and try and improve your experience.